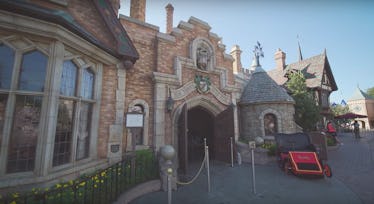 12 Virtual Disneyland Rides That You Can Enjoy At Home Without A FASTPASS
Thanks to the internet, a Disneyland day is closer than you might think. You can take the plunge on Splash Mountain, fly through Peter Pan's Flight, and escape the temple on Indiana Jone's Adventure without leaving your couch when you watch virtual Disneyland rides on YouTube. With these ride-through videos, it'll be like you're at the park, but don't have to deal with waiting in lines. All you really need to do is press "play" and it's like you're at The Happiest Place On Earth.
This is the perfect thing to do when you're missing Disneyland or daydreaming about a future visit. You wish you could jump on a plane and be in Anaheim right now, but until the Genie shows up with a magic carpet ready to whisk you away, a virtual Disneyland day will do.
For the most authentic experience, set up your computer so you have a clear view. Then, grab some popcorn and put it in your favorite Disney popcorn bucket. With your fave pair of Mickey ears on, sit back, relax, and enjoy the show. Even if you're not physically riding these 12 Disneyland rides, you'll still get all the thrills like you are. It's a virtual dream come true.