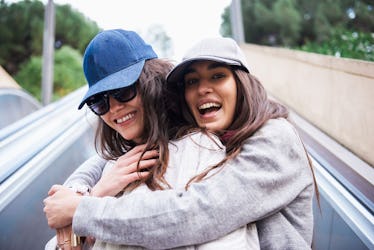 12 Things You're Honest About With A True Best Friend, No Matter What
Guille Faingold, Stocksy
When it comes to your best friend, you know her better than anyone else. Your relationship is on another level, and that's because you tell each other everything — and I mean everything. From the embarrassing stories to the secret crushes, you know you can confide in your BFF whenever you have something to get off your chest. There's even a list of things you're honest about with a true best friend, and no one else.
The reason why you feel so comfortable telling her the 411 on it all is that you know that no matter how juicy the gossip is, she would never tell a single soul. She's like a secret bank with the toughest security that even the Ocean's Eleven crew couldn't break into.
On top of telling her everything, you trust that your BFF is completely honest with you as well. In fact, there are only a few people in the world who can be brutally honest with you, and you appreciate it. I know that when I have lipstick on my teeth, I expect my best friend to tell me, and when I'm in denial about a crush that's not the best match for me, she's able to bring me to my senses. That's what best friends are for, and you could honestly thank her for every single one of these 12 things you feel comfortable telling her.