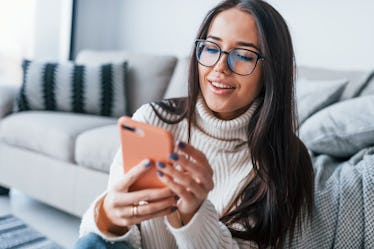 These 12 STI-Education Instagrams Bust The Stigma & Boost Your Knowledge
Shutterstock
While you may not think of Instagram as a portal for getting up-to-date, reliable sexual health information, the truth is that this app is a treasure trove of fast facts about sexually transmitted infections (STIs), valuable advice on getting tested, and other PSAs for eradicating the shame around a diagnosis. In fact, merely by addressing these sometimes taboo topics on social media, Instagrammers are helping to bust the persistent stigma. There's a multitude of STI-education Instagram accounts, but the ones that really stand out boost your knowledge and lend comforting affirmations for enjoying fulfilling relationships and a healthy sex life.
The reality is, STIs are way more common than you may think. According to the Centers for Disease Control and Prevention (CDC), STIs have been steadily on the rise, and there were nearly 2.5 million combined cases of chlamydia, gonorrhea, and syphilis in the United States in 2018. The World Health Organization (WHO) reports that more than 1 million STIs are acquired every single day in the US. And those are only known cases: As the WHO points out, the majority of STIs have no symptoms (or only mild ones), and therefore, go unnoticed.
Whether you've been diagnosed with an STI, are dating someone who has one, are eager to learn more about safe sex practices for prevention purposes, or are interested in being a part of the destigmatization movement, the first step is educating yourself about the ins and outs of these infections. One phenomenal way to do that is to follow STI experts — many of whom are living with these infections themselves. So, here are a handful of IG accounts you should follow pronto.