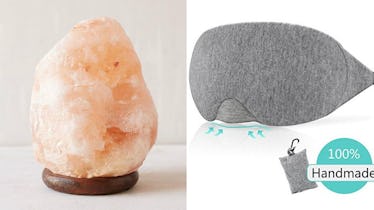 12 Items Under $20 That Will Completely Change How You Sleep
Urban Outfitters/Amazon
Sleep is bae. Nothing feels better than plopping on your bed at the end of a long day, but somehow, your brain often can't turn off when you need it to. Before you know it, you're stuck in this vicious cycle where you're increasingly tired from lack of sleep, but you never catch up, and suddenly, you haven't had a full night's sleep in months. As much as you want to improve your shut-eye, you don't exactly have the money for a fancy mattress or thousand-thread-count sheets. Fortunately, I've got you covered with products under $20 that help you sleep.
The most important things to consider when you're falling asleep have to do with light, temperature, and stimulation. The less stimulated you are (ahem, put that phone screen away), the darker it is in your bedroom, and the more comfortable your room temperature (think around 68 degrees Fahrenheit), the better off you are for a long, satisfying night's sleep. There are tons of amazing products to help you achieve this ideal sleep environment, and plenty of them won't destroy your monthly budget, either.
Improving your restfulness can be complicated, but sometimes, all it takes is a new pair of curtains. Here are 12 products under $20 that will revolutionize your nightly routine.