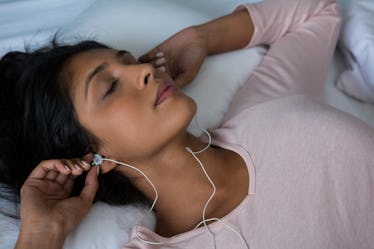 7 Dreamy Products That'll Help You Fall Into A Deeper & More Restful Sleep
Sorry friends, but it turns out Kesha is one of the rare few who can say with confidence that they wake up in the morning feeling like P Diddy, and science says we can blame it on Western civilization. How's that for first world problems? Neuroscientist Michael Rosbash claims we've been ignoring poor sleep patterns for far too long, and it's high time we start paying attention. By overlooking your own body's demand for a good night's sleep in order to catch up on the last few episodes of GOT, or scroll mindlessly through Instagram for an hour, a significant lack of shut-eye has become a serious public health problem. Personally, my first instinct would be to set aside all technological devices and get some shut-eye, but if unplugging still doesn't do it for you, there are a loads of products that help you sleep better, and (hopefully) have you feeling refreshed by the time your alarm goes off.
Rosbash specializes in circadian rhythms, and recently won the Nobel Prize for his team's research focusing on how genes control our body's natural sleep patterns. His study shows that each 24-hour cycle of your circadian rhythm first affects how you sleep, which then translates to every other aspect of your daily life, such as your attention span, hormone levels, and metabolism. Basically, not only does your quality of sleep affect your ability to function mentally, but it controls almost every aspect of the human body, too.
In order to guarantee you're meeting the FDA recommended six to eight hours of uninterrupted sleep per night, log out of social media, and wind down with these seven products that encourage a better night's sleep for a better you come morning.