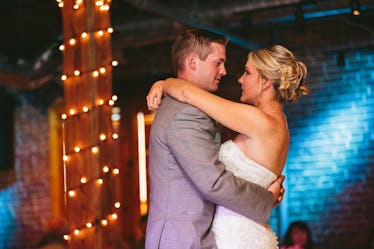 12 Pop Songs That Make Amazing Wedding Songs For You & Bae's Special Day
What's your favorite kind of music? Whether your go-to is rock, country, rap, or pop, there's likely a genre out there that you just can't keep yourself from jamming out to. For those of you who love pop music, I'm right there with you. It's just so easy to love. It's perfect for road trips, gym sessions, your daily commute, and the weekly pregame. Not to mention, there are countless pop songs that make amazing wedding songs, too.
There's a pop song for every feeling, mood, situation, and event. So, narrowing down which song you and your spouse want to debut as a married couple to can be tricky. Do you want to stick to a more traditional slow song? Or switch it up with and dance to a pump-up jam? Do you want a tune that everyone in the room will recognize right away? Your wedding day is your day. You and bae get to make the rules, in spite of what may be "expected" or "typical." If you've decided you want to come out with a pop song, but you're not sure where to start looking, here are 12 songs that'll make your day even more special than it already will be.