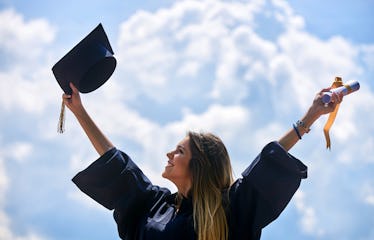 12 Epic Graduation Cap Designs That Are Giving Us Life
You've finally made it — graduation day. It's a special day that you and your classmates have worked hard to enjoy. As you anxiously await your name to be called to receive your diploma, you will enjoy seeing creatively decorated graduation caps in the crowd. Your cap is a blank canvas, waiting for you to express yourself in your own unique way. Whether you design your cap with a quote, picture, or funky accessories, it's official that these graduation cap designs are giving us life, and you can draw some inspo from them.
From funny to inspiring, your graduation cap is a reflection of how you feel. I remember my mom telling me about how she decorated her college cap. This is a fun tradition that's been going on for years, and one to have fun with. With so many things going on this time of year, it can be difficult to decide exactly what to put on yours. You want it to be unique or maybe witty, and the possibilities are endless. Hopefully these 12 graduation designs will get the creativity flowing. Not only will the day be filled with memories and pride, but you'll be enjoying it in graduation cap style.