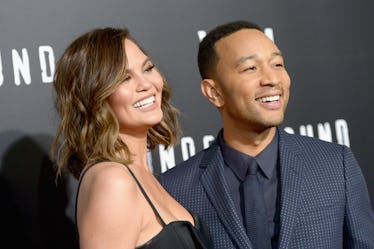 12 Celebrity Couples Reveal How They Knew They Found "The One "
Charley Gallay/Getty Images Entertainment/Getty Images
Who doesn't love a good love story? Whether it's catching feelings ourselves or just watching others fall, there is just something really compelling about watching a human connection form. Especially in times like these, where it feels like we as humans are so out of sync with one another, it's easy to lose hope. So can you blame me for being a little — OK, a lot — obsessed with celebrity couples? Sometimes, they're a big, pretty, public reminder that we're not all dead inside — yet. It makes my heart happy when celebrities reveal they knew their partners were "the one." What can I say? It's just cute, and we could use a lot more cute in our lives.
While only time will tell if the following celebrity couples will get their happy ending, for now, in this moment, love is still alive and well. And while I can't get enough of the celebrity breakups, make-ups, and all the selfies in between, let's ditch the cynicism for just a few moments and bask in that special milestone couples experience where everything feels like fate — that moment where these celebs realized that the person next to them was the person they always wanted next to them.
1. Blake Lively And Ryan Reynolds
"I knew he would always be my best friend for my whole life," Blake Lively told Marie Claire. "That was the biggest thing to me. I'd never known anything like the friendship that I had with him. I could like him as much as I loved him."
2. Jessica Biel And Justin Timberlake
While appearing on The Ellen DeGeneres Show, Justin Timberlake said about his wife, Jessica Biel:
Every once in a while I can catch a glimpse of her when she doesn't see me looking and I have this moment where I'm like if you never make a good decision... if you only make bad decisions for the rest of your life, you made one really good decision because she's just like... it's nice to marry your friend. It's nice to marry your best friend. It suits me.
3. Khloe Kardashian And Tristan Thompson
On her website, Khloé Kardashian gave the absolute sweetest reason as to how she was sure Tristan was "the one" for her:
I knew Tristan was the one very quickly — I have never felt so comfortable or so safe with someone. Because of that, I took it very slowly and was cautious about how I went about 'us.' I made sure we had very in-depth conversations. I wanted to make sure that those conversations were backed up by actions.
4. Chrissy Teigen And John Legend
While appearing on Oprah's Next Chapter, John Legend said there wasn't just "one particular moment" for him, be he still "knew [he loved] her."
I knew I could see myself living with her and spending time with her forever. I knew I could envision us having kids together. And I felt like it was time to propose. She didn't pressure me, she didn't say 'It's time to put a ring on it.' I Just felt like it's time for us to get married.
5. Gisele Bündchen And Tom Brady
Gisele Bündchen told Vogue knowing her husband Tom Brady was "the one" took no time at all. "I knew Tom was the one straightaway," she said. "I could see it in his eyes that he was a man with integrity who believes in the same things I do."
6. Ellen DeGeneres And Portia de Rossi
Ellen DeGeneres essentially put everyone to shame with her sweet reasons for knowing Portia was the right fit for her. She told The Advocate:
I could say the same thing I've said in every relationship: 'I'm happy.' But there's happiness and there's love, and then there's completion. It doesn't take away from any of the relationships that I've had, 'cause I've had amazing relationships. … But I feel like I found my perfect fit.
She continued that Portia has "taught [her] lessons about [herself]," and vice versa: "We've both changed and grown, and we just feel like, 'Oh, OK, this is completion.'"
7. Samira Wiley And Lauren Morelli
Samira Wiley spoke to OUT Magazine, saying that she had never been as open about her feelings for someone as she had been about her feelings for her wife Lauren Morelli:
I found out she was married — I assumed to a woman. It was a little dagger in my heart. I remember this whirlwind of me falling in love in those four days. I was also bartending, and I told my co-workers. They said I was crazy. She went back to L.A., and I thought I'd forget about her, but that Christmas I found myself talking to my mother about it. I never talk to her about anything like this, but I was completely open about how lost I felt. … Because Lauren was finding out who she was, I became a confidant to her. We'd talk on the phone, me sharing my own coming-out story and her talking about things she was discovering ... I loved her as a friend first, but after a while it was clear it was more than that.
8. Beyoncé And JAY-Z
Beyoncé shared on Oprah's Next Chapter that being with JAY-Z played a huge part in helping her shape who she is today:
I would not be the woman I am if I did not go home to that man. It just gives me such a foundation. [He's helped me] on so many levels. We were friends first for a year and a half before we went on any date. On the phone for a year and a half. And that foundation is so important in a relationship. And just to have someone that you just like, you know, is so important. And someone who is honest.
9. Ashton Kutcher And Mila Kunis
Mila Kunas revealed on The Late Late Show with James Corden that when it came to knowing Ashton Kutcher was the one, it was almost like a movie:
I ran into him at an awards show, and at first I was like, 'Wow, that guy's really tall.' That's what I thought ... Then he turned around and I went, 'Huh!' That moment you hear or see in movies where your heart skips a beat — and it happened with Ashton. I was, like, 'Stop it!' ... It was the weirdest thing. I was, like, 'This isn't really happening.'
10. Chris Hemsworth And Elsa Pataky
"There was no light-bulb moment," Chris Hemsworth told Elle of how he knew Elsa Pataky was right for him. "From the first time we met, we just made sense. She's fun. She's outgoing, and she has a sense of humor and a passionate attitude toward life, which is nice to try to keep up with."
11. Kim Kardashian And Kanye West
Kim Kardashian seems to have a lot of reasons why she knew Kanye West was actually "the one" for her. She first, which she shared on the 10-year anniversary special of Keeping Up With The Kardashians, is incredibly sweet:
After my breakup [with Kris Humphries], I was feeling really low and down and he said, 'Just come to Paris and see my fashion show.' He jokes that he put on this whole fashion show just to get a date with me. So I went there and I stayed with him, and that's where we started dating. I swear from the moment I landed, I fell madly in love with him and I thought, 'Oh my God, why didn't I do this sooner?' Like, this is what real life is like — love and fun and real support.
At the recent Create & Cultivate Summit, Kim shared another, funnier reason why she knew Kanye was perfect for her, according to Glamour — and it had to do with how they both sleep:
I sleep with the heat on ... 80 degrees and socks and a robe, every single night. The first night I slept at Kanye's house … I won't say the date because I'll get in trouble, but years and years ago, he slept with the heat on and socks, and I was like, 'Omg, I met my soul mate.'
12. Prince Harry And Megan Markle
In the most recent royal couple's first official interview with the BBC after announcing their engagement, Prince Harry said of knowing Meghan Markle was "the one":
The fact that I fell in love with Meghan so incredibly quickly was confirmation to me that all the stars were aligned, everything was just perfect … This beautiful woman just tripped and fell into my life, I fell into her life.
See? Love is not dead — at least not for now.
Check out the entire Gen Why series and other videos on Facebook and the Bustle app across Apple TV, Roku, and Amazon Fire TV.
Check out the "Best of Elite Daily" stream in the Bustle App for more stories just like this!