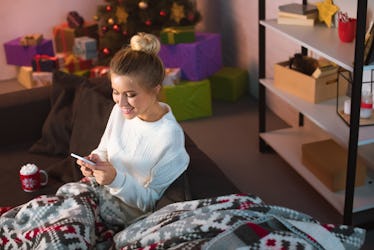 11 Tweets About The Holidays That'll Make You Feel All Warm & Fuzzy Inside
It's no wonder why this is the most wonderful time of the year. With fairy lights and sparkly bows glistening throughout your town, festive music streaming on the radio, and your loved ones by your side, you can't help but feel all merry and bright during the holidays. Give me a good Christmas movie and hot cocoa, and I'm instantly in my happy place. I don't even need cozy blankets, because I'm feeling all warm and fuzzy inside from the excitement. I'm not the only one who feels this way, either — and tweets about the holidays will instantly give you the feels.
This year raced by, and I can't believe we're so close to Thanksgiving, Christmas, and New Year's Eve. With time moving so quickly, it can be a little difficult to transition into the holiday spirit. It usually takes me breaking out my Christmas tree, putting on the *NSYNC Christmas album, and decorating my apartment to make me feel all jolly. If you're just not feeling it quite yet, hopefully, these 11 tweets will help you get in the mood and planning your very own cozy night in baking sugar cookies and playing Mariah Carey's "All I Want for Christmas Is You."