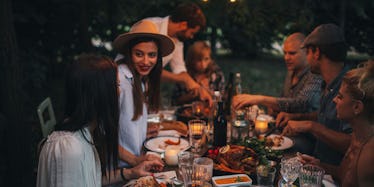 10 Tweets About Being Single On Thanksgiving That Are Way Too Relatable
During Thanksgiving, you usually head home to see your family for a full day of stuffing your face. If you're single, you're not bringing anyone home with you, and may be tweeting about it a lot. Additionally, your family members may be saying something about your relationship status that may rub you the wrong way. Or you're thinking about how much your cousin and their partner are relationship goals while all you're committed to is sweet potato casserole (me). Tweets about being single on Thanksgiving really just hit the nail on the head. Or the gravy on the turkey.
While you're sitting around, helping your family out to prep meals, or hopping over to a local Friendsgiving feast, you may think about how you're not bringing someone with you to the festivities. And while there's absolutely nothing to be ashamed of when it comes to being single, sometimes it's nice to vent out any frustrations you may have — or read other peoples' frustrations or feelings that may read a lot like your own. I gathered up a list of tweets about being single on Thanksgiving that are all too relatable. Read on to see what people had to say about their single life around Thanksgiving.