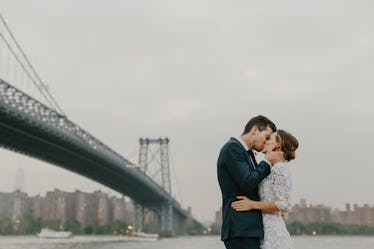 11 Stunning City Wedding Photos, Because Skyscrapers & Cabs Make The Best Backdrops
What's even better than a beautiful wedding photo? A beautiful city wedding photo, obviously. I can't lie, my heart skips a beat just looking at a majestic skyline with an adorable and happy couple at the center. Those bright lights! Those skyscrapers! I've always been a city girl, and there's something about the sight of taxi cabs and window displays that makes me feel super cheesy and romantic. I mean, can you get any more iconic than a downtown view of a bustling metropolitan city? Add in the flowers and some chic wedding fashion and I just can't get enough.
When you think of traditional weddings, your mind might go straight to rustic churches or quiet scenes in nature. But as these photos prove, getting married in a city might just be the best way to go — it's the center of all the action! Your guests will obviously love the fun destination, and the breathtaking views from a rooftop or balcony make a gorgeous backdrop for photoshoots. You practically don't need any fancy decor when the location is this awe-inspiring. So go ahead, take in these photos and try not to get all emotional and giddy. I dare you.