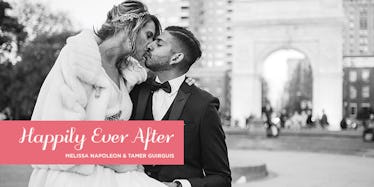 See How This Gorgeous Couple Pulled Off A Traditional Wedding In New York City
Welcome to Elite Daily's Happily Ever After series, a collection of extraordinarily unique and downright spectacular Millennial weddings showcased in magnificent detail.
It's the ultimate inspiration for brides and grooms-to-be and romantics who just cannot get enough of fairytale weddings.
If your "dream wedding" folder is bursting with photos of vintage décor, vibrant flower bouquets, black-tie flair, floating candles in mason jars and delightful cake pops, our Happily Ever After series will fuel you with even more creative vision for your special day.
Tamer proposed to Melissa in New York City's Washington Square Park. With the help of friends, he devised an intricate plan to surprise his bride-to-be.
The happy couple's romantic first look took place on one of their favorite New York City streets, Washington Mews.
The couple's favorite moment of the day was during their photo session in Greenwich Village.
They couple loved posing for pictures in the 8th Street subway station.
Melissa looked effortlessly elegant in her Jenny Packham gown.
The happy couple held their wedding ceremony and reception at the Manhattan Penthouse.
Melissa and Tamer worked with a florist at Whole Foods for their floral arrangements.
During the ceremony and cocktail hour, Melissa and Tamer highlighted the traditional religious and cultural aspects with which they both grew up.
The beautiful Ukrainian wedding cake, also known as a korovai, was decorated with delicate, handmade doves.
Other Ukrainian desserts adorned the dessert table, along with Egyptian desserts, Italian pastries and mini doughnuts from Dough, the couple's favorite doughnut store.
All the best to the beautiful couple, Melissa and Tamer!