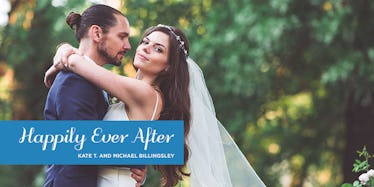 This Couple Pulled Off A Gorgeous Bohemian Wedding In New York City
Welcome to Elite Daily's Happily Ever After series, a collection of unique and downright spectacular Millennial weddings showcased in magnificent detail.
It's the ultimate inspiration for brides, grooms and romantics who just can't get enough of fairytale weddings.
If your "dream wedding" folder is bursting with photos of vintage décor, vibrant flower bouquets and black tie flair, our Happily Ever After series will fuel you with even more creative vision for your special day.
At the same spot where they once had their first date, a romantic and monumental chapter of Kate T. Billingsley and Michael Billingsley's love story unfolded.
Michael proposed to his beautiful bride-to-be on a park bench just outside of New York City's Guggenheim Museum.
Kate and Michael both shared the first thought that went through their minds the morning of the big day.
The couple booked the Morris-Jumel Mansion in New York City for their wedding ceremony and reception.
Soon after they got engaged, they 'stumbled upon' this breathtaking site while out for a stroll in their neighborhood.
The couple fell in love with the idea of hosting their special day at a place only minutes away from their apartment.
'New York City garden bohemia' served as the wedding theme. The bride and groom are both actors, and wanted the day to depict their style.
Kate had 16 "flower maidens," each special in her own way. Kate wanted each girl to stand out, showing off the beautiful individuals they are.
Kate's bouquet was a compilation of all of the flower maidens' blooms, as well as several representing her mom, grandmothers and mother-in-law.
The colorful garden flowers were from Tiny Hearts Farm in Copake, New York.
The bride looked absolutely breathtaking in her wedding gown from Nicole Miller bridal.
The groom's daughter, Zemi, wore a custom-made tutu dress from the Hair Bow Factory. Zemi incorporated every maiden's flower into her look.
Kate said she wanted Zemi's outfit to combine all of the flowers because she's a "full burst of rainbow joy" in her life.
Zemi's delicate floral crown was made of the same flowers as those in Kate's bouquet.
The white-frosted wedding cake, three tiers of tres leches, was created by the couple's favorite Dominican bakery in Washington Heights.
Wildflowers decorated the outside of this delicious masterpiece.
The reception tables were adorned with small canvases that had playwright names like Shakespeare and Beckett written on them in glitter.
Mismatched china plates made the couple's "garden bohemia" vibe come full circle, completing this fairytale of a day.
Cheers to the happy couple, Kate and Michael!