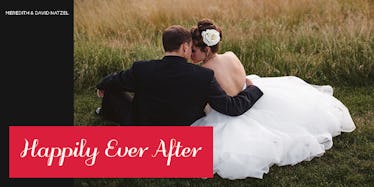 You'll Fall In Love With This Enchanting Garden Party Wedding
Welcome to Elite Daily's Happily Ever After series, a collection of unique and downright spectacular Millennial weddings showcased in magnificent detail.
It's the ultimate inspiration for brides, grooms and romantics who just can't get enough of fairytale weddings.
If your "dream wedding" folder is bursting with photos of vintage décor, vibrant flower bouquets and black tie flair, our Happily Ever After series will fuel you with even more creative vision for your special day.
Meredith and David Natzel's wedding story begins on a beach in Ponce Inlet, Florida, where they rented a house. One morning, David convinced his then-girlfriend to wake up early and watch the sunrise with him.
Their story only gets more romantic from there. Meredith and David's wedding day took place at the beautiful New Haven Country Club in Hamden, Connecticut.
The guests were given vibrant pink programs that doubled as fans.
Embracing the gorgeous day, the happy couple tied the knot under a grand tree.
Small flower vases adorned the chairs, and delicate flower petals led a pathway for the bride to meet her groom.
Meredith looked like an absolute vision in her strapless Hayley Paige gown.
And, let's be real here, what's a garden party wedding without Ted Baker shoes?
The theme would not have been complete without garden roses in the wedding bouquets. These magnificent creations were made by Earth Blossoms in Harwinton, Connecticut.
The soft, pastel color palette of the bridesmaids' dresses tied in perfectly with the floral arrangements.
Meredith and David's decadent white wedding cake was frosted in vanilla buttercream and had a divine raspberry filling. The beautiful rosette design was a magnificent grand finale to the garden party.
As far as the couple's favorite time out of the entire wedding day goes...
All the best to the beautiful couple, Meredith and David.