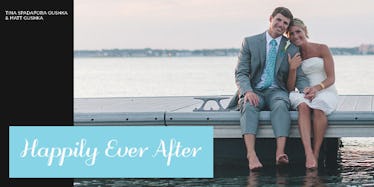 Happily Ever After: The Perfect Beach Wedding You've Always Dreamed About
Welcome to Elite Daily's Happily Ever After series, a collection of extraordinarily unique and downright spectacular Millennial weddings showcased in magnificent detail.
It's the ultimate inspiration for brides and grooms-to-be and romantics who just cannot get enough of fairytale weddings.
If your "dream wedding" folder is bursting with photos of vintage décor, vibrant flower bouquets, black tie flair, floating candles in mason jars and delightful cake pops, our Happily Ever After series will fuel you with even more creative vision for your special day.
This happy couple's love story unfolds in Ocean City, New Jersey.
Matt Gushka was on lifeguard duty at St. Charles Place beach when he first met his future bride, Tina Spadafora Gushka.
When it came time to propose, Matt incorporated the beautiful spot they first met into his plans.
On Easter, he made an egg hunt just for Tina with special clues leading her to St. Charles.
As she followed the clues to meet him, he waited for his soon-to-be-bride to bike to the beach.
It made perfect sense for Tina and Matt to tie the knot on the sand where they first met. This time, they'd be surrounded by family and friends.
Welcome to Matt and Tina's perfect beach wedding.
The vibrant bouquets included Tina's favorite flowers.
The bridal party consisted of both current and childhood best friends.
The couple's reception took place at the beautiful Ocean City Yacht Club.
The groom's love of chocolate and peanut butter influenced the decadent Belgian chocolate pound cake with buttercream icing.
The local baker who created the spectacular masterpiece embellished it with extra tropical flowers.
Tina and Matt's love for the beach was reflected in the reception decor.
It's clear Tina and Matt made their dreams come true.