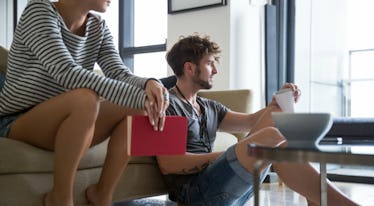 11 People Reveal Their Deepest Fears About Dating & Relationships, & Ugh, Same
When it comes to falling in love, it's almost impossible to get there without taking some risks. With the potential for great love and happiness also comes the potential for disappointment, frustration, and unfortunately, heartbreak — no risk, no reward. Reason being, you have to invest your time, trust, and emotions into a relationship for it to have any chance of working out. Otherwise you're not really leaving yourself open to real love. But that means that sometimes dating is scary, which is why it's so painfully relatable when people reveal their deepest dating fears, even if you don't share the same worries.
The good thing is, if falling in love and the risks that come along with it scare you, you're absolutely not alone. Everyone — whether they're totally single or happily married — has something they're afraid of, from being cheated on to losing their partner in some way. For me, that fear is that the next person I fall in love with will change their mind about me all of a sudden, because it has happened to me in past relationships. For others, it might be something like a fear of commitment or reminding a partner of their ex. Here are 11 other all-too-real dating fears that people have shared on reddit.