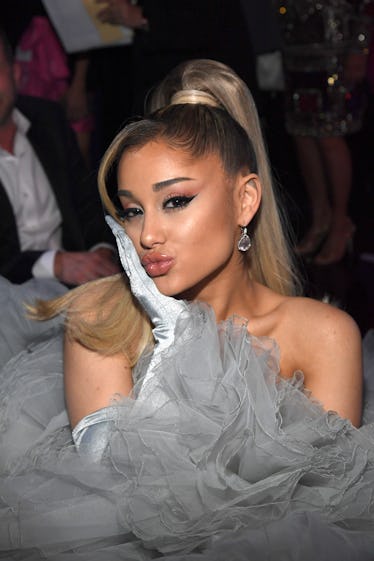 11 Engagement Rings Like Ariana Grande's But Way Cheaper
Kevin Mazur/Getty Images Entertainment/Getty Images
The "7 rings" songstress is currently rocking one showstopping piece of jewelry! On Sunday, Dec. 20, Ariana Grande announced that she and Dalton Gomez were engaged. "forever n then some," she wrote on Instagram alongside a carousel of photos of Grande and Gomez snuggling in matching white t-shirts and a close-up of Grande's new pearl and diamond engagement ring.
The sparkler is as glamorous as she is. Kathryn Money, a senior vice president at jewelry brand Brilliant Earth, tells Elite Daily that Grande's ring features an oval diamond weighing in between five and seven carats set asymmetrically next to a pearl that likely measures between five and six millimeters. The band appears to be white gold or platinum. According to Money, that means the ring could cost a whopping $300,000 to $350,000. Holy! Moly!
There may be an emotional significance to the ring's pearl. Not only is pearl the traditional birthstone for June, Grande's birthday month, but pearls also play a meaningful role in her family's history. After Grande announced her engagement, fans dug up an old tweet from 2014. "nonna had a ring made for me w/ the pearl from grandpa's tie pin," she wrote, showing off a photo of a pearl and gold ring. "she says he told her in a dream it'd protect me." (Her grandfather Frank died in 2014.)
Fans found even more evidence in one of Grande's tweets from 2018. She posted a photo of her grandparents with the caption, "forever n then some" — exactly the same wording she used on her engagement announcement. While Grande hasn't confirmed this theory herself, it would make her engagement ring even more special.
Love is priceless, but engagement rings unfortunately do come with price tags attached. Luckily, if you want to cop Grande's style but don't have Positions money to spend, there are plenty of unique pearl and diamond rings out there that don't cost more than an actual house. Let's get shopping.