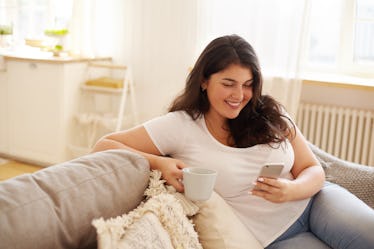 11 Questions To DM Your Crush That Feel Natural, Not Cringeworthy
Shutterstock
If I had a dollar for every DM I've sent a crush, I'd have enough money to buy a double shot latte with an alternative milk (and that stuff adds up!). While I haven't sent millions of DMs, some of my first messages deserve their own spot in The Louvre. From asking about a recent post to inquiring about their latest vacation, there are tons of natural questions to DM your crush that don't feel cringeworthy.
Whether you actually know them IRL or you've only interacted on the 'Gram, starting up a DM conversation with your crush can help you learn more about each other. While you never need to do something you're totally uncomfortable with, sending your crush a first message can be super empowering. Of course, when making a digital connection with someone you don't really know, it's always better to err on the side of caution. If you're worried a question is too personal or forward, you're probably right. Though it's hot to make the first move, it's imperative to ensure everyone's comfort and wellbeing as you make said hot move.
And if you're looking for some #inspo, here are 11 mellow questions to DM your crush.