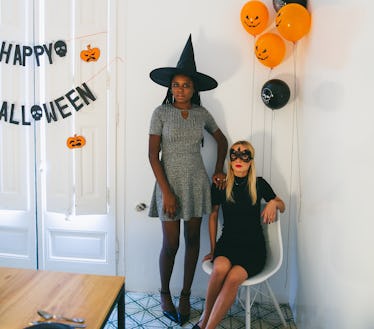 11 Halloween Couples Costumes Inspired By IG, So You Can Do For The 'Gram
Scrolling through Instagram on the day after Halloween is like the adult version of pouring all your trick-or-treating candy out on to your bed and taking inventory. While getting dressed up and going out can be fun, seeing all the amazing pictures of you, your boo, and your friends is like getting a whole bag full of king-sized candy bars. Of course, if you can't decide what to be for Halloween this year, looking through the 'gram can be a great source of costume inspiration. In fact, these Halloween 2019 couples costumes inspired by Instagram are almost begging to be posted.
Though perfecting your captions and filters is part of the process, it's important to remember that Instagram isn't only about the final product. Looking through your feed and finding new people or pages to follow can serve as great inspiration for some creative ideas of your own. Of course, when Oct. 31 rolls around, nailing your costume may be the only thing on your mind. And if you're totally stumped in the dress-up department, the 'gram may give you all the answers.
Here are 11 Instagram-inspired couples costumes for Halloween 2019 that may be more of a treat than trick.