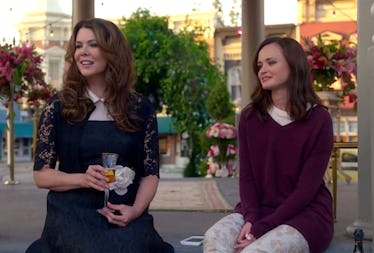 11 Gift Ideas For The Bestie Who's Obsessed With 'Gilmore Girls'
Netflix
If you have a friend who just so happens to live by the motto of "where you lead, I will follow," then you know a Gilmore Girls-inspired gift for Christmas will be the ultimate present you can give them. Bring the town of Stars Hollow to your bestie this season by taking inspo from any of these awesome gifts for the friend who loves Gilmore Girls. You want to give them something that will totally make them scream, "Oy with the poodles already," when they open it, and these are sure to do exactly that.
Since you can't travel to Kim's Antiques for something thoughtful, we've assembled some of the best ideas for you to peruse on your own. And the best part about it is you won't have to worry about Mrs. Kim eyeballing you over your shoulder.
Just like deciding between Jess, Dean, and Logan is difficult, picking out the right gift for your bestie can be a stressful task. This list of 11 Gilmore Girls gifts will make everything a whole lot easier. Plus, we all know there's really only one correct answer to that question. *Jess forever* So grab your favorite cup of coffee and get to shopping. Let your bestie know they are truly the Rory to your Lorelai, and you know exactly what gift to get them this year.