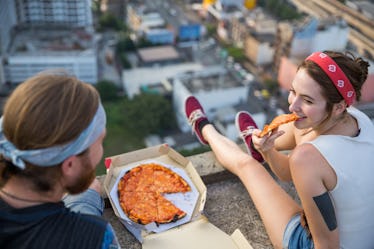 11 Cheap Date Ideas For When You're In College, Because It's A Broke Knock Life
Dating in college can be tricky. Between navigating long-distance relationships, meeting jerks left and right, and figuring out your life and your sexuality away from your parents and their over-protective eyes for the first time ever, it's a tricky, tricky time. But as the months pass, you start to get ahold of how dating in college works, and you may even meet someone you want to date exclusively. The only issue is... you're broke, which is why a handy list of cheap date ideas for when you're in college can help you woo this new person who has piqued your interest without running through all your money in one date.
Despite all the f*ckery you may encounter in the college dating world, people still say your college years are the the greatest years of your life. At this time in my life, I couldn't agree more. (Ask me again in 10 years, and we'll see if that's still my answer.) The weekends spent tailgating and cheering on my school's football team, the Greek events I attended after joining a sorority and dating a frat star, living with my some of my best friends — all these things contributed to the best time of my life. Ah, college.
In however many years you're in college for, you're constantly meeting new people, and some of those people are bound to pique your interest more than others. If you've found a person you want to date but you don't have the funds for a four-course meal, behold: 11 cheap AF date ideas that are perfect for college couples. Let's dive in.