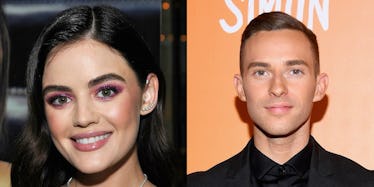 These 11 Celebs Have Crushes On Other Celebs, Because Stars Are Just Like Us
John Sciulli/Getty Images Entertainment/Getty Images Dave Kotinsky/Getty Images Entertainment/Getty Images
If your life didn't revolve almost entirely around catching up with your latest celeb crush every time a fresh issue of Tiger Beat hit the newsstand, were you even a 2000s tween? Just me? Because I displayed those Jonas Brother and Jesse McCartney posters with pride. And while my taste has thankfully evolved from the days of boy bands and Disney Channel originals, it doesn't mean I've totally stopped pining after unattainable A-listers. If you've got eyes and a beating heart, chances are you can cop to a celebrity crush or two (or 20 — no shame). If you can't, you're lying, because let's face it: Hollywood is filled with hotties. And don't they know it. Even those among the ~rich and famous~ aren't immune. Whether you're a Channing Tatum stan or more of an Emma Watson admirer, you're in good company. There are plenty of celebs who have crushes on other celebs, because yep, stars! They're just like us!
Continuing to campaign as the world's most relatable celeb, Jennifer Lawrence has not stopped obsessing over Justin Timberlake, John Stamos, Vanderpump Rules star Stassi Schroeder, and oh so many more. When the Oscar-winning actress came face-to-face with the IRL Uncle Jesse she played it as we all would: totally uncool. "I was a perverted guy," Lawrence told Conan of her run-in with the Fuller House star. "I was like following him into rooms and staring at his ass." Same.
1. Jennifer Lawrence and Larry David
Clearly, Lawrence's list of celeb crushes is by no means short, however, some of her top picks may surprise some. Namely, her affection for Larry David, because girl has it bad for the Curb Your Enthusiasm creator. "I'm in love with him, and I have been for a really long time," J. Law told Vanity Fair in 2014, before later admitting she had slipped David her number. "I love that he didn't call me. It makes him so much hotter."
While most of our celeb crushes are completely unrequited (like, don't even know we exist unrequited), things are just a little different when you're Jennifer Lawrence. Appearing on Late Night with Seth Meyers, Larry David addressed his famous fan, and all Lawrences' other loves.
I don't want George Clooney in the picture either, I want it [to be] just me. To me, it takes away from the crush if she's mentioning other people. How special is it then for me? It's not that special. You got a crush on me? You got a crush on him? No good. I want the big crush.
Take note, Jen.
2. Josh Hutcherson and Emma Watson
Lawrence's Hunger Games co-star Josh Hutcherson's real-life interest lies in another famous franchise and its leading lady, Emma Watson. In 2013, Hutcherson turned to his management for help in lobbying for the Harry Potter alum's heart. "I love Emma Watson. I'm dying to meet her," he confessed to Bang Showbiz in an interview. "I tried to get my manager to call, like, 'Er, could you like call Emma's manager and see if we could, like, meet or something?' It hasn't happened yet. One day, fingers crossed!"
3. Diane Keaton and Channing Tatum
While the world is still mourning the demise of Channing Tatum and Jenna Dewan's 9-year marriage, something tells me Diane Keaton is celebrating the Magic Mike star's newly single status. Back in 2015, when Tatum and Dewan were still going strong, Keaton happily admitted to her crush. "Channing Tatum is actually married to someone else? Not me?" She laughed, while appearing on Ellen.
Ahead of Tatum's Magic Mike XXL premiere later that year, Keaton took to Twitter to support her wannabe-hubby. "OK girls and guys, we're one week away from HEAVEN," she posted. TBH, she knows what's up.
4. Adam Rippon and Shawn Mendes
Olympic sweetheart (and all around angel), Adam Rippon is into Shawn Mendes, so same. Because Ellen Degeneres is apparently a sorcerer for digging up dish on celeb crushes, the bronze medaled figure skater opened up about his pop star affections. "I used to have a really big crush on Harry Styles, but here's the thing: I was sleeping on Shawn Mendes," he confessed on Ellen. "Not literally, but I didn't realize how cute he was. I know Harry will be upset, but … love is a funny thing."
And when Rippon finally met Mendes at Vanity Fair's Oscar afterparty, the "In My Blood" crooner didn't disappoint. "We talked for like 30 seconds but I kind of feel like we had a connection," he told Andy Cohen on Watch What Happens Live.
5. Lucy Hale and Steve Carrell
The world was completely shook last summer when Steve Carell stepped out looking like a total silver fox. But longtime crusher Lucy Hale called dibs on The Office funny man long before. "I think Steve Carell is so sexy," she admitted to Lucky magazine all the way back in 2013. And it wasn't her first time gushing over the comedian. In April 2013, Hale also tweeted, "Steve carell is my dream man. That's all."
6. Noah Schnapp and Zendaya
Stranger Things star Will Byers, aka Noah Schnapp, is head over heels for Disney darling Zendaya, and I can't say I blame him. While on stage accepting his MTV Movie & TV Awards win, Schnapp took the opportunity to gush over his celeb crush. "Zendaya's here," he said. "She's so pretty. I love her." Although the pair didn't meet, Zendaya took to Twitter for her own shoutout. "This is so adorable, I didn't even get to meet him," she wrote, crying emoji and all. I'd say that's a win for Noah.
7. Ariana Grande and Jim Carey
Before Ariana Grande fell crazy in love with fiancé Pete Davidson, the Sweetener songstress only had eyes for Jim Carrey. And while he definitely doesn't seem like her usual type, while appearing on Live with Kelly and Michael, Grande proved her love for the famed comedian is forever. "My childhood crush, my lifelong crush, it kind of all goes together, it's Jim Carrey," she said.
I met him, and like, cried. It was really weird. It was so weird. It was so uncharacteristic of me. I'm usually sort of chill. I'm usually somewhat contained but I met him and I was kind of nervous to meet him, you know, he's been my crush forever. What if he's not as nice as I'm expecting? He was so over-the-top nice, and perfect, and just as I hoped he'd be. He told me in his Jim Carrey way, 'Remember, be nice.' OMG, he's so cute.
Looks like Pete may have some competition.
8. Drake and Nicki Minaj
Drake has got a thing about public declarations of love. And before he was pouring out his heart for Rihanna in the middle of the MTV VMAs, he was getting real about his affections for another industry icon. Although Minaj and Drizzy have kept things strictly platonic (at least in the public eye), that hasn't stopped Drake from crushing on Nicki hard. Opening up to The Daily Beast in 2011, he admitted:
If there's any woman in my life that's the ideal woman for me, it's definitely Nicki. I like the stripped-down Nicki. I like Nicki with no makeup, black hair, some casual clothes in a recording booth rapping an amazing verse. That's sexy to me. I know some great women, but all jokes aside, Nicki is somebody I could spend my life with because I think we understand each other.
9. Helen Mirren and Vin Diesel
Helen Mirren's heart beats fast and furious for franchise star Vin Diesel, and he totally reciprocates. After catching him give an awards speech, Mirren told Seth Meyers in 2015 that she "sort of fell a little bit in love with [Diesel] right there and then." Her Fate and the Furious co-star called his experience acting alongside her the most validating of his career. All the feels.
"I remember this being one of my favorite days in my journey," Diesel dished on his scene with Mirren. "No one else in the room mattered. Nothing existed but this bond between her and I, and there was something really magical and really special about it. And it's something that I'll take with me for the rest of my life." If only my celeb crushes said that about me (or, TBH, even knew I was alive).
10. Selena Gomez and Chris Evans
The heart wants what it wants, right Sel? During a 2015 appearance on Watch What Happens Live with Andy Cohen, Selena Gomez revealed her affection for the Captain America star. "I kind of have a crush on Chris Evans. Isn't he cute? He's very cute." Well, she's not wrong. Cohen quickly chimed in, "I think he's going to love you." Now freshly single (Evans from Jenny Slate and Gomez from a newly-engaged Justin Bieber), could a coupling be in the works?
11. KJ Apa and Jennifer Aniston
While all of America is obsessed with Riverdale star KJ Apa, the IRL Archiekins has got a thing for Friends sweetheart Jennifer Aniston. A self-proclaimed rom-com fanatic, Apa dished to Cosmopolitan in 2017 that Aniston was his ultimate celeb crush, and he's never even seen an episode of Friends (a real crime). But it looks like he isn't the only CW star pining after Jen. While appearing alongside Aniston on the famed sitcom, Cole Sprouse was totally smitten. "I had a really, really hard time working with [Jennifer] because I was so in love with her," he told the New York Post. "I was infatuated. I was speechless — I'd get all bubbly and forget my lines and completely blank. It was so difficult."