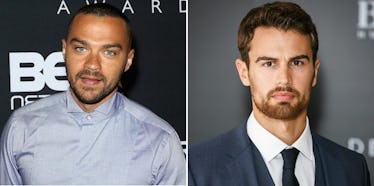 12 Heartthrob Celebrity Crushes We All Low-Key Share With Our Moms
Gabe Ginsberg/Stringer/John Phillips/Getty Images
There are many things in life we share with our moms, all the way from fine wine to fine men.
I don't know about the rest of y'all, but I look forward to relaxing nights at home with my mom, a bottle of rosé (or two), and some prime chick flicks.
Like many moms and daughters out there, we never fail to swoon over all of the heartthrobs in our favorite movies and TV shows. Shoutout to all the gems in Chicago Fire and Grey's Anatomy.
These devilishly handsome actors never fail to make us drool through the screen. In honor of all of the leading men who hold a special place in our hearts, here are 12 celeb crushes we all share with our moms.
1. Jesse Williams
Ah, Jackson Avery, how your striking baby blues inevitably make mom-and-daughter duos everywhere weak in the knees on Grey's Anatomy.
2. Theo James
This one's for all the mamas and daughters who fell head over heels in love with Theo James as Four in the Divergent series. He had a hardcore soft spot for Tris, and we all dreamed we were in her shoes.
3. Colin Farrell
You keep doing you in that black tux and bowtie, Colin Farrell. Mom and I will just be chilling over here, and by chilling, of course, I mean swooning.
4. Idris Elba
When has Idris Elba not come in clutch as number one in our eyes? Never.
5. Josh Duhamel
Let's be real here: Along with the rest of us, Mom still low-key *hopelessly* wishes she could win a date with Tad Hamilton.
6. Matt Damon
Matt Damon was one of our OG crushes, and he'll always come out on top.
Hands down, Brad Pitt is, and forever will be, the real MVP. Sure, Mom may have had her eyes on him first, but we can't keep our eyes off of him either.
Chris Hemsworth, you can be our knight in shining armor any time, any day. Just let your gals know what's good.
9. Usher
*Cue "DJ Got Us Fallin' In Love" while wishing Usher was dancing with me*
I mean, I love me some Usher, but moms seem to have an especially soft spot for this babe.
10. Taylor Kinney
Every gal who watches Chicago Fire with her mom knows someone should call the fire department, because Taylor Kinney is making it hella steamy up in here.
Oh, Will Turner, we'll cruise on the high seas in a pirate ship with you to the end of the world.
12. Joe Manganiello
Sofia Vergara is certainly one lucky woman, and Mom and I are beyond jealous of her.