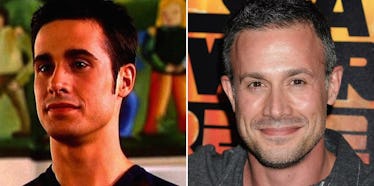 9 Then-And-Now Photos Of The '90s Heartthrobs We'll Forever Crush On
Miramax/Shutterstock
WARNING: The images in this article will commence immediate drooling, so proceed accordingly.
There are some men who will always hold a special place in our hearts.
They're the ones we fell hopelessly in love with through our TV screens. They're the crushes we never quite recovered from.
Even though I'm no longer a hardcore teeny bopper groupie, I can't seem to stop loving my famous '90s crushes, and I think all '90s chicks out there can agree on that one.
There's just something about those '90s heartthrobs that made us crush so hard on them both then, and even now, as we re-watch and binge their movies and TV shows.
Each dude was certainly one of a kind, worthy of his own unique admiration.
1. Freddie Prinze Jr.
Freddie Prinze Jr. will forever be known for both his drool-worthy smile and charismatic personality.
For real, we'll always have a super soft spot for Uncle Jesse, his incredible guitar skills and his flawless hair. Those godlike follicles alone require their own much-deserved praise.
3. Will Smith
Now this is a story all about how, my life got flipped-turned upside down And I'd like to take a minute, just sit right there I'll tell you how I became the prince of a town called Bel-Air
All hail the OG "Fresh Prince," Will Smith. He still makes us break out into uncontrollable laughs today.
4. Mark-Paul Gosselaar
Ah, Zack Morris — "Saved by the Bell" would simply have been incomplete without you, your natural charm and sleek hair.
Some men age like fine wine... and there's no better example than Mark-Paul Gosselaar.
5. Mario Lopez
We all knew our main squeeze A.C. Slater was way too cool for school.
6. Matthew Lawrence
And, to be honest, Matthew Lawrence was, too. Just as he worked that varsity jacket like the coolest dude around, now he's working that fedora like a boss.
7. Rider Strong
Oh, Rider Strong... you will always be Shawn Hunter in our eyes. *swoons*
8. Paul Rudd
We passionately rooted for Josh and Cher to be together from the beginning of "Clueless," and we continued to live vicariously through Cher once the duo ended up together in the end.
Paul Rudd really hasn't changed in the least bit since his "Clueless" days.
9. Andrew Keegan
And Andrew Keegan seems to be on the same page in that regard, too. He was the bad boy we hated to love so much, and he's still making us swoon beyond compare.