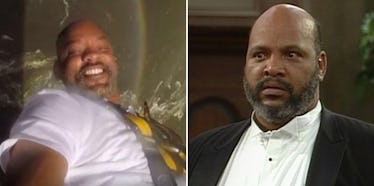 People Think Will Smith Is Turning Into Uncle Phil Because Of This Photo
YouTube/NBC
Hey. You wanna see something weird and funny? Of course you do. You are on the internet, after all.
Well, look no further, friends, because the following photo of Will Smith is most definitely the weirdest and funniest thing I've seen on the internet in a while.
Because here's the thing: Will Smith is kinda old now. Not in a bad way! He's still fine as hell, just in a "definitely looks older than he used to be when he first got famous" kind of way. (He's 48.)
Aging and entropy is all very normal of course, but what makes Will Smith's case so special and hilarious is that it seems Will Smith's aging is turning him into none other than Uncle Phil from "Fresh Prince of Bel-Air."
The proof is in this video of Will Smith bungee jumping at Victoria Falls, over the Zambezi River in Zimbabwe.
SEE? DID YOU SEE IT? No? OK, look at this still, in particular, which this Reddit user pointed out.
I mean, RIGHT? And as another Reddit user pointed out, at the age of 48, Will Smith is now actually older than Uncle Phil was in season one of "Fresh Prince" (Uncle Phil was 45).
Is that or is that not the spitting image of Uncle Phil, Will Smith's fictional strict-but-loving uncle from the '90s?
The angle of the shot definitely has a lot to do with the resemblance, but even from different angles I still sort of see it.
So naturally, the whole internet freaked out.
"Fresh Prince" may have ended over 20 years ago, but the legacy of Uncle Phil and Will lives on.
Of course, RIP, James Avery, the actor who played Uncle Phil and died in 2013 at the age of 68.
Sorry, probably should have done that first.
But I feel he would be happy to know his favorite television nephew is growing up to look just like him.
So... NBC... we're doing a reboot now, yes?
Just spare me the Uncle Phil funeral episode, please, when you do it. I already went through that shit with "Gilmore Girls," and I really don't think my heart can take it.