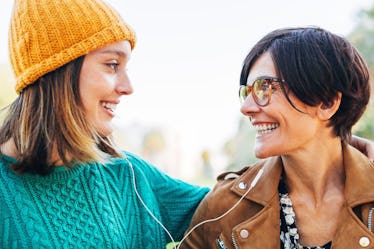 10 Women Share Tips From Mom About Moving On After A Breakup & I Want To Hug Mine
Whether it's about building your confidence before a job interview or recovering from a nasty cold, moms always seem to save the day with some pearls of wisdom. This can ring especially true when it comes to relationships. For example, we can all benefit from some tips from mom about moving on after a breakup. It makes sense, too: In all likelihood, your mom has not only been through a split (or six) in her lifetime, but she's also had years of distance to reflect on those experiences. She has seen firsthand that it is possible to go through a devastating breakup and not only survive it — but also come out the other side stronger for it. Not only that, but your mom arguably knows you better than basically anyone else. She knows what you want, she knows what you deserve, she knows your biggest fears, she knows how you've been hurt in the past. That means she's in the position to give advice about moving on that's tailored specifically to you.
Breakups are a particularly painful reality of dating, but if you're lucky, your mom may be able to drop some truth bombs that make it easier to heal. Here's what 10 women had to say about their mom's best advice about moving on after a breakup.