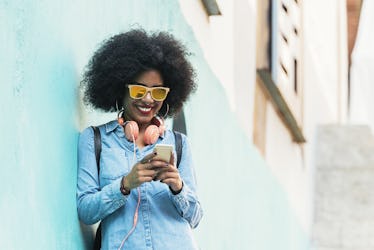 10 Wholesome Memes To Text Your Partner That'll Make Them Smile
Shutterstock
Memes are often the highlight of my day. If I feel like everything is going south, but then I see an adorable meme via text or in my feed, all of a sudden I'm in a much better mood. Memes are one of my favorite things to text friends and lovers, and I like knowing I can brighten someone's day. If you think your partner needs a pick-me-up, or they're already in a good mood but you just want to make them smile, you may want to know the most wholesome memes to text your partner. After all, memes are here to entertain.
I consider myself pretty funny (feel free to not contribute your thoughts on that matter), but I can't always find the most wholesome thing to say to a partner. Sometimes, it's easier for me to crack a joke than to make them say "awww." That's where memes come in for me — if you send someone a picture of a dog that's having a cute thought, they will smile. That's simply a fact, and if you haven't seen it in action, give it a try. The internet is useful for so many things (did you know people used to book flights over the phone? Wild), and memes are just one of them. So, take advantage of all that the internet has to offer, and use some adorable memes to make your partner smile.
Read on to find 10 wholesome memes to text your partner.