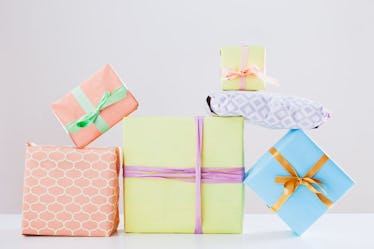 10 Wedding Gifts Under $50 That Both The Couple & Your Wallet Will Love
Now that spring has officially sprung, and the weather is drastically improving, another seasonal change is upon us. No, it's not allergy season, although that's also a thing. It's wedding season — that magical time of year filled with cheesy hashtags, expensive hotels, and gift registries longer than a CVS receipt. OK, OK, it's obviously also a beautiful and lovely time for any friends who are getting married, but being a regular wedding guest can get pretty stressful, and expensive. That being said, there are plenty of wedding gifts under $50 that you can gift just about any couple, and that they'll definitely appreciate.
Many couples have a registry that they give their guests access to so they can see what the soon-to-be newlyweds want and need to start their life together. However, many of those gifts that couples ask for can be expensive as heck! Have you seen how much a KitchenAid stand mixer costs? It's not cheap, and neither are 1000-thread-count sheets, or good-quality blenders.
But rest assured, because there are still plenty of good-quality, lovely gifts you can get your soon-to-be married friends that won't cost you more than $50. Because let's be honest, you deserve to be frugal and a good friend.