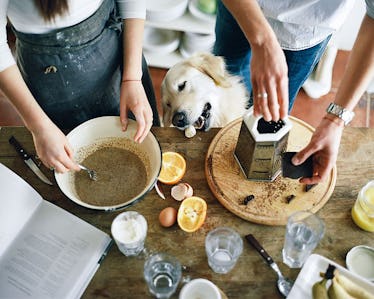 4 Easy Winter Treats To Make With Your Partner On Sweet Date Nights
There is a particular brand of self-care that I would like to bring attention to: the treat. Recognizing the value of a treat is a vital step on the path towards becoming a capital-A "Adult." Once I grew up and learned that nuclear warheads exist, crushes won't always like me back, and skin will flake off my body yearly from December to March, treating myself became a necessity. If for you, this season is also punctuated by molting and goose bumps, I recommend making a winter treat with a partner, because then at least people on your Instagram feed will think you're happy?
Kidding... ish. Whether you post it on social media or not, I think that a mug of hot chocolate can actually change your entire day around. Dramatic? Perhaps, but when was the last time you had a cup of melted chocolate? When I was a kid, I had zero respect for treats. At six, treating myself meant climbing up on a shelf when my mom wasn't looking to pound a row of Keebler Elf Cookies. (Sadly, I didn't grow up in an Oreo house.) Even dogs understand treats — they know if they play their cards right, they will get that piece of jerky.
Adults, on the other hand, understand that taking the time to make something special and warm to drink or eat is a sophisticated thing to do. (This is why we spend $10+ on Hot Toddys at the bar.) You do not need to "treat yo self" Tom Haverford and Donna Meagle from Parks and Recreation-style, but I believe that you should make one treat this winter season, and if you have a partner, you should include them. (Especially if they're the better chef.) Here are some ideas:
1. Mulled Cider Or Wine
I recently wandered into one of those hip little gift shops that sells planters shaped like boobs and felt coasters made by local artisans and was immediately pleased that I was not greeted by the smell of incense, but instead by the smell of cider mulling in a crockpot. NOTHING says "cozy winter snuggle time" like throwing some mulling spices into a liquid of your choice. If your SO isn't into cooking, you can assure them it's the very easiest treat to make. My favorite mulling spices are Greenpoint Trading Company's blend. Pick out some apple juice or cheap red wine blend (Syrah or a varietal blend work well), add a sachet of spices, and let it simmer in a crockpot. Then cozy up with your cutie by the fire and indulge.
2. Rice Treat Snowballs
If you have never had a *homemade* Rice Krispies treat, you have not treated yourself. Tell bae to bring the butter and cereal from the bodega nearby, and you can grab the marshmallows. All you have to do is melt the butter and marshmallows, and then add the cereal. Roll them into balls like snowballs because you're festive like that and simply put them in a pan lined with cooking spray to solidify. YES, it's that easy, and it will make you and your sweetie feel like kids again.
3. Baked Brie
Because if you're going Instagram story your couple's baking day, why not get full on cheesy with it? Here is a life hack for you: baked brie is one of the simplest things to make, and everybody who is not a vegan loves eating it. Impart this hack to your partner next time it snows and don't share the spoils with anybody. All you need is an oven set to 350 degrees, a wheel of brie cheese, and a drizzle of honey. Bake for five to seven minutes or so and you are on your way to gooey goodness. Best paired with a Bordeaux and a screening of Amelie.
4. No-Knead Bread
Before you @ me, I promise that even as a terrible cook and baker, I made this bread successfully. If you follow The New York Times' Mark Bittman's famed recipe for No-Knead Bread, the final product will make you and your partner will feel as though you have just climbed Mt. Everest. Plus, throwing flour at each other is cute until it's a mess, right? I implore you to give this recipe a shot. (If you're feeling extra ambitious, pair this with your baked brie.)
Now that I've made myself hungry, and thirsty, I'll leave you to try out whichever treat sounds best. Remember, adulthood requires special moments of indulgence with people you care for, so it's OK to procrastinate a little bit in order to make room for some self-care. Oh, and let me know when you start that Pinterest page!
Check out the entire Gen Why series and other videos on Facebook and the Bustle app across Apple TV, Roku, and Amazon Fire TV.
Check out the "Best of Elite Daily" stream in the Bustle App for more stories just like this!