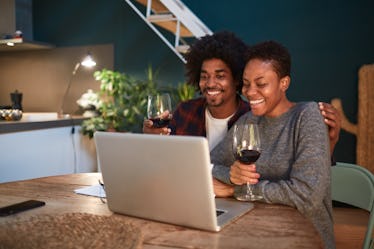 10 Virtual New Year's Eve Experiences That'll Be A Zooming Good Time
Tempura/E+/Getty Images
It's time to pop some bubbly and celebrate, because 2020 is almost over. It's been quite the unexpected year filled with more Zoom hangouts than you can count, so why not make it a night to remember with virtual New Year's Eve 2020 experiences? Instead being all dressed up with nowhere to go, you and your housemates can ring in the new year with so many fun activities right at home.
Virtual experiences are all the rage right now, since they're a safe way to have some fun while following the Centers for Disease Control and Prevention (CDC) safety guidelines amid the ongoing coronavirus pandemic. Staying at home and celebrating holidays with only your immediate household is the safest way to protect yourself and others from spreading and/or contracting the coronavirus.
From virtual wine tastings to game nights, you just need to grab your laptop and find the right experience that speaks to you. If you'd like to celebrate the new year by sipping and toasting, an online champagne tasting might be the experience for you. Consider trying something delicious like a gnocchi making masterclass or a chocolate lesson from Jamaica. If dancing is your jam, a DJ dance party will get you and your friends grooving into the new year.
Some of these virtual New Year's Eve experiences require a ticket and have limited space, so you'll need to book your spot ASAP. Just don't forget to set the tone in your home with some fun NYE decor and a virtual backdrop like the Times Square Ball. Treat yourself to a special charcuterie board to enjoy while you have your virtual fun. Then, you'll be ready to say goodbye to 2020 and welcome a brand new year.