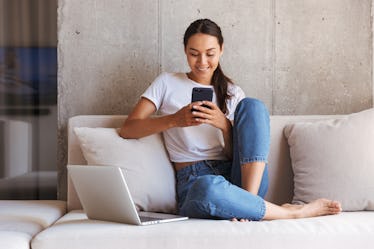 Airbnb's Online Experiences With Bumble Are Here To Upgrade Your Virtual First Date
Shutterstock
"Dating in a time of quarantine" sounds like it could be the title of some modern love story, but it's actually your life right now. With some states' stay-at-home orders extending through the summer due to COVID-19, you might be on the lookout for creative ways to virtually mingle with your dating app matches. Look no further, because Airbnb's Online Experiences with Bumble give you fresh ideas for your virtual first date. From cooking lessons to cocktails, your go-to first date ideas are still possible during COVID-19. All you need to do is mix, mingle, and book it.
According to Airbnb's official press release, over 100,000 singles across the globe on Bumble said they're quarantining in their profiles, but that hasn't stopped them from looking for love. Thanks to modern technology, it's easier than ever to meet your matches from afar. Airbnb launched Online Experiences, which is a collection of virtual events you can book on their site, back in Apr. 2020. Now, teaming up with Bumble, Airbnb has put together a collection of virtual experiences that are perfect for a first date.
If you're based in the U.S., you can even potentially win a free virtual date on Airbnb Experiences, thanks to a competition that Bumble launched now through May 28, 2020. To enter, find the "Virtual Dating Badge" within your Bumble app. This new section of the app helps people connect with other likeminded users who are looking to date virtually. Who knew your first date could consist of drinking with drag queens in Portugal, meeting sheep in New Zealand, and getting a Turkish coffee reading, all while potentially finding your soulmate.