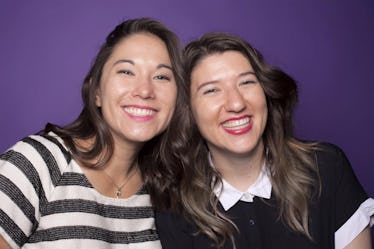 10 Times Your Sister Is Your Biggest Fan That'll Forever Make You Happy Cry
When it comes to your sister, there's nothing you wouldn't do for her. She has been your best friend since day one, and you share a lot more than just genes and clothes. The feeling is mutual, too. She would do just about anything for you, and there are times your sister is your biggest fan that make you happy cry harder than any rom-com.
When I stop to think about all the great things my sis has done for me, it puts a giant smile on my face. Even though she was in college at the time, she drove hours to be in the front row at my high school dance competition. When I moved from New York to LA, she was there to send me off with a big hug and words of encouragement. She constantly has my back when I need some moral support for a big audition or interview. She's also always ready and waiting by the phone when I need her.
My sister has been my number one fan for years, and that means she's done these 10 things for me. If your sis is just the same, now's the perfect time to send her that "thank you" text she deserves.