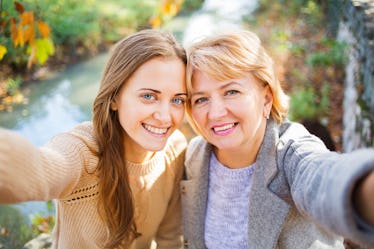 8 Things That Definitely Happen When Mom's Your Number One Fan On Social Media
Let's be honest: Mom's the greatest. She's the ultimate combination of best friend forever, emergency contact, and your most supportive, loyal fan. I don't know what I'd do without my mom, and feel #blessed to live in a time where technology makes it so easy for me to stay connected to her. At any given moment, I can text her for advice, a funny joke, or just to vent. If your relationship with your mom is similar to mine, you're likely saying, "Same." You also know that when your mom's your number one fan on social media, you have even more to talk and laugh about.
You were probably the one who set your mom up with her very own Facebook and Instagram accounts, because she was begging to be included in the social media party. While some people might not want their parents keeping an eye on their social media game, you love every like and comment you get from yours.
Mom was there cheering you on at every dance recital and sports game, and now, she's there for even the small wins like every like, retweet, or comment you receive. To anyone whose parent isn't on social media, they may not fully understand, but you appreciate your mom for these eight ways she's your biggest social media fan.