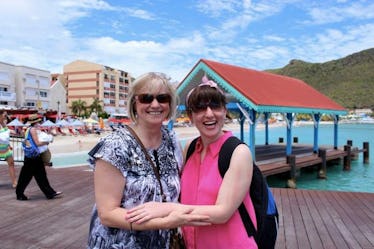 10 Times Your Mom Is Still Your Number One Cheerleader In Your 20s
There's no denying that my favorite person in the entire world is my mom. She's my best friend and biggest support system. I text her almost every single day, and call her more times than the average daughter should. It's all because she's consistently the one person I know I can turn to, no matter what. If you're blessed with an incredible mother-daughter relationship like I am, you know there's no denying how special your bond is. There are even times your mom is still your number one cheerleader in your 20s that showcase just how awesome she is.
I'm not talking about a cheerleader who likes your Instagram selfies and sends you inspirational quotes. Your mom may do that, but her support goes way beyond social media. She was there when you had your first dance recital, and when you graduated high school. Plus, her title of "biggest fan ever" doesn't stop the minute you leave the nest. Even though the struggle can be real at times in your 20s, you know you can make it through anything, because your mom's right there. In fact, I think a mom text is needed right now as I say, "thanks" to her for these 10 times she was my favorite cheerleader.