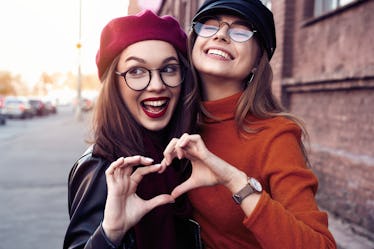 10 Times You Wish Your Best Friend Was With You, Because The LDR Struggle Is Real
The one thing nobody warns you about adulting is that being in a long-distance relationship with your best friend can be a true struggle. In fact, it can be the struggle of all struggles when you and your bestie move miles away from each other. Heading off to college or living in two different cities for work, you learn to cope with the distance by having FaceTime dates and texting non-stop in your BFF chat, but there are times you wish your best friend was with you.
I haven't lived in the same state as my bestie in years, because at first it was college, and now, I live in California. Even though I don't get to see her everyday like we did in grade school, I still talk to her all the time through text and Instagram. When we do reunite, it's as if no time has passed at all, and we continue our conversation like someone just pressed the pause button.
We've managed to make it through the dreaded distance, but that doesn't mean I don't still send her "I miss you" texts all the time. It's actually these 10 moments when the LDR struggle is all too real, and I wish we invented teleportation already so she could be right here with me.