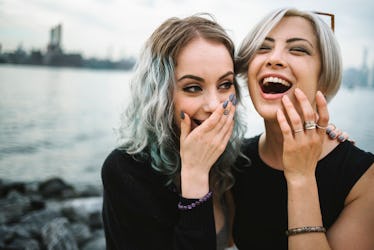 10 Relatable Things Only You & Your Bestie Since Day One Get Nostalgic About
I don't need to tell you that best friends a rare breed. You already know that. In fact, you know that you only get a few really great BFFs in your lifetime, and when you actually find one, you keep them as close as possible forever. Finding that special person really does feel like finding that missing puzzle piece that makes you whole. You instantly feel at home whenever they're around, and they know exactly how to make you laugh with just one word or look. Pretty much anytime they're around, your day is made, and there are things you and your best friend can talk about that no one else will understand.
It's like you have special powers together, because you speak the same language. At times, you don't even need to say anything at all to get exactly what your BFF wants you to know. It comes from years of inside jokes and hanging out that have prepped you two to be the ultimate best friends. You have tried to explain the stories you have together with other people, but they always go right over their heads. "You had to be there," is something you and your bestie find yourselves saying a lot, and it's whenever you get into these 10 things that only your best friend can relate to.