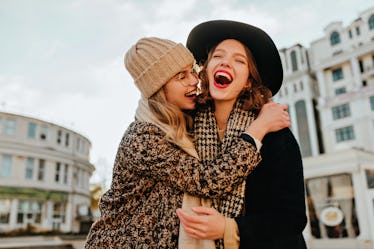 10 Best Fall Throwback Moments You Need To Remind Your Sister About ASAP
Shutterstock
Fall is the coziest of seasons. With oversized sweaters and leggings, warm seasonal lattes, crunchy leaves, and trips down Memory Lane, it's no wonder why you're currently filled with nostalgia, and you know the one person you can call when that nostalgia hits is your sister. She was there with you through all the fall fun during your childhood, and she can help you remember hilarious stories you may have forgotten. But there are more than a few things you did with your sister in the fall as kids that you'll always remember.
My sister and I currently live long-distance, but I always make it a point to visit her in the fall. Autumn is my favorite time of year, and I have her to thank for that. She was the one person who was down to join me on every autumn adventure. I remember going to the fall carnival, carving pumpkins, and sorting through our Halloween candy together. I really miss those days, but luckily, I have my sis to take me back.
If your sister needs a little reminder of the good times as well, you can reminisce about these 10 things you use to do together. Not that you needed a reason to call your sis, but fall is the perfect opportunity to travel back in time.