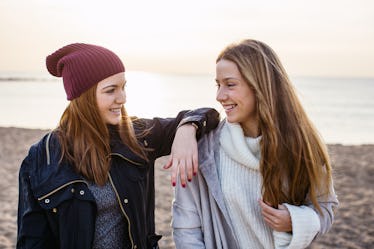 10 Things You Should Never Stop Doing For Your Little Sis, Even In Your 20s
Growing up, you always looked out for your baby sis and never failed to drop some of that epic older sis knowledge whenever she needed advice. That close-knit dynamic doesn't have to end the minute you both reach adulthood. In fact, there are things to do for your little sister that you should never, ever stop doing. Just because you're in your 20s now, that doesn't mean you lose the title of the older sister.
This is a job that'll last a lifetime, which means the role you play never fades out — even if you live miles apart from each other. Sure, the setting might change a bit as you reach your 20s, but you still get to be that big sis who has your little sister's back, no matter what. For example, I might act like I don't really need my older sister, but I still rely on her texts and advice every single day. That's just the tip of the iceberg when it comes to older sister help.
Even if your little sis doesn't want to admit it, you are still her biggest role model. That's why she still secretly relies on you to do these 10 very important things throughout your 20s.