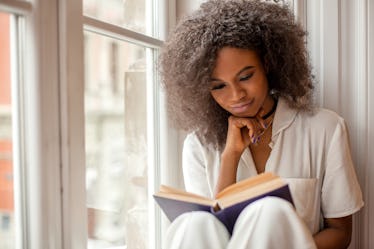 10 Things To Do At Home If You Love Getting Caught Up In A Good Book
Andrii Kobryn/Shutterstock
There's nothing you love more than getting lost in a good book. A great story can make you feel like you're taking a trip around the globe, when in reality, you're relaxing in bed in your PJs. There are actually a lot of things to do at home if you love reading that aren't the obvious turning pages in your latest novel.
Of course, you have a stack full of books you can't wait to dig into, but instead of powering through them all as quickly as possible, you may want to switch things up. From virtual books clubs to surprise book bundles, you have the chance to really give yourself some fresh reading-themed activities.
Not only can you add different books to your reading list, but when you're home, you can create the coziest reading nook of all time or try a few recipes that fit the theme of what you're reading to bring the experience full circle. Needless to say, it's time to flip the script and try any of these 10 activities for readers. Make your days like those exciting page turners you love so much, and ensure you always have something exciting coming up in the next chapter.