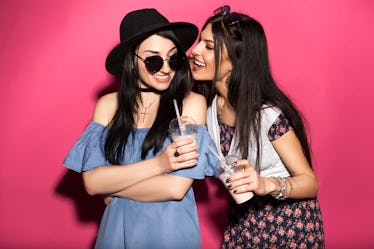 10 Things Sisters Say To Each Other That Make Your Bond Unbreakable
The bond between two sisters is on another level. Obviously, you're linked by your DNA and family, but there's so much more to your relationship than that. You've been BFFs since you were kids, and that friendship has made you super close. You might even be able to guess exactly what your sister is about to say — especially if it's one of the many things sisters say to each other on the regular.
I love that my sister and I basically have superpowers when we're together. (Watch out, Avengers.) She can read my mind, and most of the time, I could finish her sentences if I really wanted to. With a simple look, my sister knows exactly how I'm feeling, and can rescue me whenever I'm in the middle of an interrogation from an extended family member. She knows how to make my day so much better just with a few magical words.
That connection comes from years of living with each other, going on family vacations, and just hanging out whenever we're bored. You might feel that same bond with your sis, and it's why these 10 things sisters say to each other are on point. You and your sis may even look at this list, and think, "OMG same." That's just the power of sisterhood.