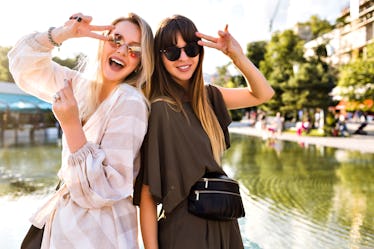 10 Things Best Friends Have In Common That Explain Why You're The Forever Type
There are a lot of factors that can turn your friend into a best friend. Of course, there has to be a mutual love and understanding, but on top of that, there are things best friends have in common that explain why you're the forever type. All of these similarities add up to your friend becoming the true PB to your J.
It's a journey finding that one person who just gets you and checks off all the boxes. The struggle can be real, and that's why you might only have one true BFF in life. You can't just give that title away to anyone. It's reserved for the person who has all, if not most, of these 10 things in common with you. These are the things that make being a friend with this person so easy. You meet once, and it's like you're instantly bestie soulmates.
I don't know if I believe in love at first sight, but I do believe in BFFs with first click. Once you start talking, you quickly realize that this person is just like you. Sure, you have your own unique hobbies and interests, but at the core, you're basically twins. That's why you know that once you've found that missing puzzle piece kind of friend, you've found a friend for life.