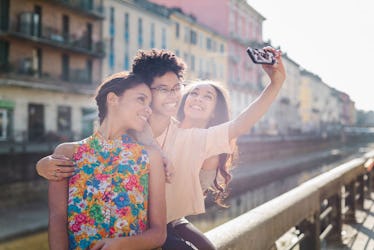 Your Best Friends Really Become Your Family When You're Adulting
When you finally graduate college, move to a new city, and start building your brand new #adult life on your own, things can get pretty challenging. You're probably learning fast how to really balance your budget for the first time, and you most likely don't have the social safety net that you did when you were still in school. You start to build close relationships and trust with the new friends in your close circle. Although you're not exactly sure how your best friends become family when you're adulting, you know that it definitely happens, and you couldn't be more grateful.
Although you know your parents will always be there for you, your pride might get in the way and you may want to avoid asking them for help and questions about adulting as much as you can. Plus, you might not even live in the same city as them anymore, so it's much easier to turn to your friends if you need something in the short term that they can help out with. From fixing the broken shower head in your apartment to watering your plants when you're out of town, your new close circle of best friends do all of the things that your family normally would.
I've heard people say that everyone has two families: the family you're born into, and the family you choose. Your chosen family of besties is comprised of some of the most amazing people in your life. You know that they would do anything for you, and the feeling is totally mutual.