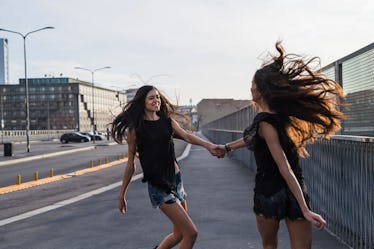 9 Rules Of Girl Code That Are Literally Everything When You're Officially Adulting
There are a few unwritten rules that every girl should abide by. Pointing out lipstick on someone's teeth — even if you don't know her — is a given, and you should never say no to the opportunity to take your bestie's newest Instagram pic. Even though these are technically "unofficial" rules, they're ones that every girl should know and hold deeply in her heart, kind of like a set of guidelines that you live your life by. And though every girl might have different rules she wants to include within her own personal guidelines, these are some girl code rules when you're an adult that you absolutely have to be following.
In my opinion, these rules are entirely unbreakable, and violating them is essentially turning your back on womankind. As Gretchen Wieners said in Mean Girls, "That's just like, the rules of feminism!" All joking aside, although these rules aren't mandatory, they're definitely ones you should try to incorporate into your daily life. Girls always have to look out for each other, regardless of whether or not you're close, or if you even know each other.
If you don't include any other rules in your own personal girl code, you should definitely at least start with these nine.