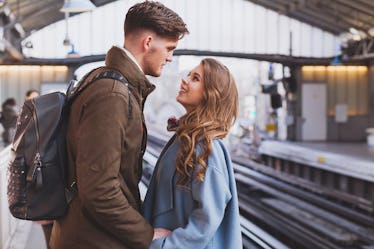 Aww, Here's How To Make Your Long-Distance Partner Feel Loved
Shutterstock
Relationships thrive on the "little" things, like sending each other sweet texts and knowing exactly what toppings your SO likes on their pizza. But long-distance relationships might need that intimacy a little more than others. When you live far away from your partner and don't see them as often as you'd like, it's especially important to keep the romance alive with your words and actions. There are plenty of things you can do for your long-distance partner that'll mean the world to them, even from miles away.
"At a glance, a long-distance relationship is no different from a local one," matchmaker and dating coach Lori Salkin previously told Elite Daily. "Two people are introduced or meet with the hopes that this could be the one... The difference in long-distance relationships is that there is a lot more weight put on the relationship right away because of the difference in the commitment needed to develop and sustain the relationship." It can take extra work from both partners to stay connected and in sync.
To remain close despite the physical distance, get creative with the ways you show your love. You might not be able to kiss them or hold their hand IRL, but you can still comfort them after a long day with a text or phone call. It's all about staying in tune with their emotions and establishing a foundation of trust and communication. Virtual "dates" can be just as fun as in-person hangs. What really matters is that you're spending time together.
To shake things up a bit, surprise your partner with a special gesture of love. It doesn't need to be expensive or fancy, but it should feel authentic to you.