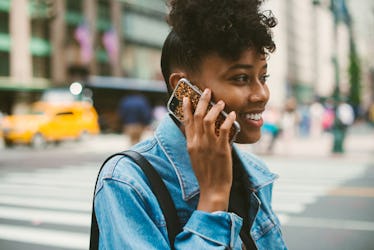 8 Women Reveal How Often They Text, DM, & Call Their Partners Every Day
I think we can all agree that quality communication is key to a healthy relationship. But what about the frequency of contact? For some, a single text or call a day is plenty to feel connected to their boo. For others, it's more common to shoot a few texts and Instagram DMs throughout the day, and make a phone call on a lunch break or right after getting out of work. How often should you communicate in a relationship? Basically, it's pretty impossible to define what's "normal" because every relationship is completely unique. And the frequency of communication will depend on a number of factors, including each individual's needs and the demands of their respective careers.
If you're curious about how your habits measure up, consider this: A 2015 Pew Research study found that 85 percent of young people in relationships expect to hear from their SO at least once a day, if not more, and another 35 percent of people expect their partner to reach out every few hours. Roughly 11 percent of participants expect bae to communicate in some way every hour of the day.
How often you communicate with your partner can vary over the course of the relationship, too. For example, you may excitedly keep up contact far more often at the beginning of the relationship (the #honeymoonphase is real). If you or your partner get a job that makes it more difficult to access your phone during the workday, that will obviously affect how often you can communicate. And if your relationship becomes long-distance, you may find that has an impact on your communication frequency as well. Again, there is no right or wrong when it comes to how often you call, DM, or text your significant other — but that said, here's what eight women on Reddit had to say about their communication habits.