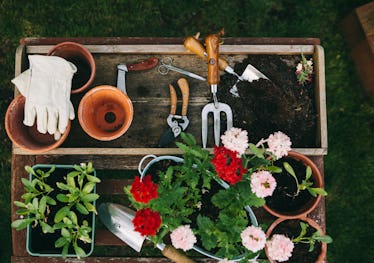 10 Sweet Little Gifts For Your Boo That Celebrate Spring — Other Than Flowers
OK, hear me out on this one: Flowers are a pretty dang amazing gift. When it comes to gifts that celebrate spring, flowers often take the cake. I don't know anyone that wouldn't absolutely light up if their sweetheart came home with a bouquet or even a single flower that they picked on their walk home (even if they plucked it from, like, a neighbor's garden. *shrug*). So, what could be better than flowers? Not much, is what I am trying to say — but with an expert level creativity, you could give your partner a sweet little "just because" gift that welcomes in spring and shows them that you care.
As someone whose love language is gift giving, I freaking love looking at someone's life and seeing what I could give them to either make their day easier or to just bring a small dose of joy into an otherwise normal day. The trick to gift giving is to pay attention to what a person does throughout their day. Does your partner use their hands a lot at work? Maybe consider getting them a gift card to a manicure place near their apartment. Does bae love to cook and be creative in the kitchen? Listen or pay attention to their recent statements about cooking. Maybe they might complain about a dull knife or not having enough bowls, and — voilà — there's your clue for a great gift.
Great gifts don't necessarily have to have a huge price tag — they serve as a reminder that there is someone paying attention. For some creative gift ideas to feel like a spring fairy god-bae, check out the following ideas.