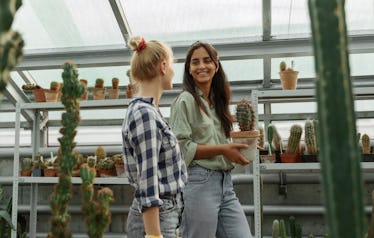 5 Outdoor Date Ideas For Spring That Will Make You Feel Like Love Is In Bloom
Milles Studio, Stocksy
Spring has officially sprung! You know what that means? Sweaty season is just around the corner. At the risk of sounding pessimistic, spring is the best time to enjoy the weather without have to sweat through your cute date outfit. So, to take advantage of the greenery coming in all around you, it's time to get outside and go on your next date night. Need weather appropriate plans? Check out these creative spring outdoor date ideas!
Date night can be a really fun way to take a break from your busy lives and spend some one-on-one time with each other. While date night in and of itself is an exercise in QT and appreciation for each other, it's not immune to growing stagnant or repetitive. This is especially true during the winter months when your options for activities become increasingly limited.
That's all the more reason to rejoice for spring time, when you can finally venture outside! It can be easy to rely on the usual dinner date as a staple, but with a little bit of creativity and research, you can find an incredibly fun date that engages both of your interests. The best part of spring, IMHO, is the undeniable presence of growth all around you. So, incorporate that idea into your planning and you can't go wrong!
For more ideas on how to do this, check out the following outdoor spring date ideas that will leave you feeling sprung for *nature.*