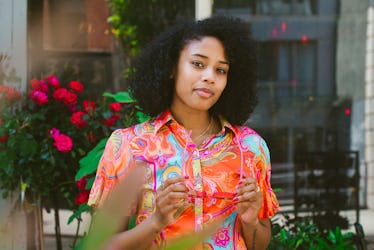 10 Dating App Opening Lines For Spring That Are Sure To Make Love Bloom
It's 2019 — if you're still messaging "hey" on Tinder, it's time to rethink your opening line. Maybe you took a break from the apps to stay warm inside this winter, but now you're ready to get back out there. Spring is the time to find that special someone (or someones) to spend your summer Fridays with, and you're going to want dating app opening lines for spring that will kickstart the conversation.
Spring is actually the optimal season for romance, according to neuroscientist Helen Fisher, because we get a dopamine rush from novel experiences. With its new flowers and colors, spring provides nothing but novelty. Optimism is in the air, and even if you feel like you've tried every dating app too often to count, maybe it's time to give it another go.
Reaching out to someone for the first time can be scary, but first impressions go a long way. Plus, sending the first message means you have more control over who you talk to. If you're shaky on how to start a conversation on a dating app that's both witty and unique, we've got you covered.
Check out these 10 opening lines that will make your love blossom just like the flowers this spring, and start swiping!