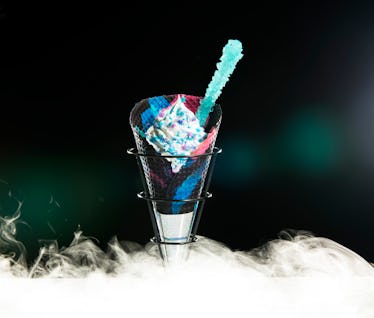 Halo Top's "Stardust Sundae" Is The Sparkly Ice Cream Cone Of Your Dreams
As summer quickly approaches, it's time to focus on all things ice cream. There really is no better way to beat the heat than enjoying a cup or a cone of the sweet stuff. One ice cream shop is doing its best to make sure your next cone is as Instagram-worthy as it is delicious. Halo Top's "Stardust Sundae" is the sparkly sundae you need in your life (and in your Instagram Story).
You probably recognize the Halo Top name from the freezer aisle of your grocery store, but the ice cream brand now has two Halo Top Scoop Shops in California — and that's where you'll find this glittery sundae, according to Delish. The Stardust Sundae looks like a mashup between the unicorn trend and goth ice cream, since it has all the bright colors and sparkle of the unicorn food trend mixed with the galaxy-esque black waffle cone. It also sounds like the tastiest (and sparkliest) outer space-inspired treat you can get your hands on.
Inside the black, purple, blue, and turquoise-swirled cone you'll find Halo Top vanilla soft serve. Of course, it wouldn't be a Stardust Sundae without the star sprinkles, brightly-colored rock candy, and Halo Top's "holographic" sugar-free vanilla sauce. From the description of this sparkly sundae, I think it's safe to say Halo Top's Stardust Sundae will soon be taking over your Instagram feed.
There is also some good news for Los Angeles ice cream lovers, because they have an opportunity to score a free Stardust Sundae on April 24 at the opening of the newest Halo Top Scoop Shop at Westfield Century City, according to a Halo Top press release. Per Delish, the first 50 people to arrive at the opening will be treated to a free Stardust Sundae (um, yes please).
Doug Bouton, President and COO of Halo Top Creamery, expressed in the press release how excited he is for people to try the Halo Top Scoop Shop desserts. Bouton said, "We can't wait for more of our fans to experience Halo Top in soft serve form and, most importantly, what's better than free ice cream all day?"
Oh, I forgot to tell you that if you aren't one of the first 50 people to grab a Stardust Sundae at the Westfield Century City location, you can still enjoy free soft serve and ice cream all day from 10 a.m. until 9 p.m. PT during the opening on April 24. Basically, if you're anywhere near Los Angeles, you should head to the scoop shop to celebrate the opening.
This second Halo Top Scoop Shop follows the opening of their first Westfield Topanga location, which began serving up the sweet stuff at the end of 2017. These are the only two Halo Top Scoop Shops as of now, so you'll have to be headed to the City of Angels to get your hands on the Stardust Sundae — or any of their other tasty offerings.
Don't totally tune out this ice cream news if you're not on the West Coast, though, because Delish reported the brand has plans to open more shops in the coming years, expanding to cities beyond Los Angeles (!!!). No matter which shop you visit, though, you'll have to remember that you can only order specialty items like the Stardust Sundae from the secret menu.
If you're totally here for this souped-up treat, then you'll be excited to learn that Halo Top plans to roll out a series of fun sundaes in their scoop shops. You can also keep your ice cream order classic with a Halo Top pint flavor when you visit the Halo Top Scoop Shop, if that's more your style.
Whether you're headed to the new Westfield Century City Halo Top Scoop Shop to taste the Stardust Sundae or grab a cup of their seasonal Blueberry Crumble guilt-free soft serve, don't forget document your treat by checking out the "interactive photo booth" that allows you to immerse yourself "in an incredible 3-D art installation," per their release.
OK, the Halo Top Scoop Shop officially sounds like the place to satisfy all your ice cream cravings — so BRB, booking my flight to L.A.