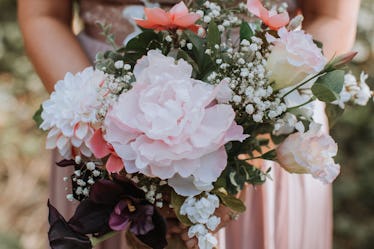 10 Bridesmaids Revealed The Most Intense Asks They've Gotten From Brides
Being a bridesmaid can be a really fun experience, but it can easily be just as stressful ⁠— not to mention, expensive. You might be asked to help with the bachelorette party, the bridal shower, and the day of the wedding might come with its own set of duties. You want to be there for your friend, but that doesn't mean you have to put up with every whim and desire they express. In fact, hearing stories of intense bride requests, straight from real bridesmaids themselves, will remind you how out of control weddings can actually get.
Viral stories about brides who get a little stressed out with wedding planning are just about everywhere these days. There's so much pressure on this one wedding day to be the "best day of their life," that it's no wonder they're so stressed out about it. And stress, as you probably already know, can cause folks to do things they otherwise wouldn't, like expecting an old friend to do your wedding makeup for free, or giving your wedding guests a long list of rules to abide by. Whatever the case, there is no shortage of stories about brides who've let wedding-planning stress get to their heads. Of course, that's not to say all brides reach this level of absurdity, but the following stories from bridesmaids who have dealt with their fair share of demanding brides take this stress to a whole new level.